One of the most popular questions we get is "How much does a franchise cost?" In general, I hate when I need to give an "it depends" answer in any scenario. It always feels like I'm trying to avoid giving the answer which isn't the case. If you know me, you know that I'm pretty straightforward. I don't skirt around things or give evasive answers. I'm direct and answer things honestly. So let's break down why this answer is unfortunately "it depends".
Did you know that we have hundreds of franchises that we work with and they cover 20+ different industries? There are just so, so many options. With such a vast variety of options, it makes sense why it's not a clear answer. We have a few great franchises that the total investment is under $50K (ie: vending). But when I say few, I do really mean only a few. We also have a few franchises that are over 5 million dollars in our inventory (ie: storage units). That's a giant variance! Depending on what your interests are, where you live and a whole host of other preferences will determine what types of franchises would be a good fit for you – regardless of the investment level (although obviously we take that into account).
If you are wanting a franchise that has a physical location of some kind your total investment is going to be a bit higher because of real estate and renovation costs. Also any equipment or inventory needed to furnish the location. If you have a physical location you can expect to invest at least $300K at the very minimum with all your other expenses as well. It could be much higher, but it also depends on your location and how big your store needs to be. Real estate in the midwest is less expensive than on the west coast.
If you are considering a franchise that does not have a storefront or warehouse then your costs can be considerably lower. You may still need to have a work truck or other equipment but you can easily get into a franchise under $300K that is run from home.
We have a lot of really great options in the $150K – $300K range. That investment level we feel like is perfect for someone looking to get into a franchise. It's the sweet spot in my opinion. It's not so much that it feels like a huge risk and unattainable, but it's enough to buy into an amazing franchise system. You aren't limited to just a few good options. We have over 100 franchises in that price range that we ourselves would consider investing in.
Item 7 Explanation
Speaking of investments – when we say "total investment" that is going to include all of the money you will need for the first three months of operating your franchise. This will include things like the franchise fee (typically $40K – $60K), money used to travel for training, any real estate or renovation costs, inventory, payroll for any employees you'd have, a lease for any vehicles you'd need to purchase, licenses and permits, advertising costs, and many other things. After your initial investment, then you'll have your normal monthly expenses. This number will be lower than those first three months because you won't have to do things like wrap your vehicle or buy signage again. Every franchise is required to have an FDD (Franchise Disclosure Document). Within that FDD are multiple items that outline different guidelines and expectations. The item 7 will break down the initial investment. You will know ahead of time how much money will be required to start this business. So when we say the total investment range for a given franchise is $85,000 – $150,000 it means your total costs for the first three months of business will be within that range. Here are a couple examples of what an item 7 looks like and what you can expect to see when you are evaluating franchises.
This first example is of a business that does not have a physical location. This is a service based business.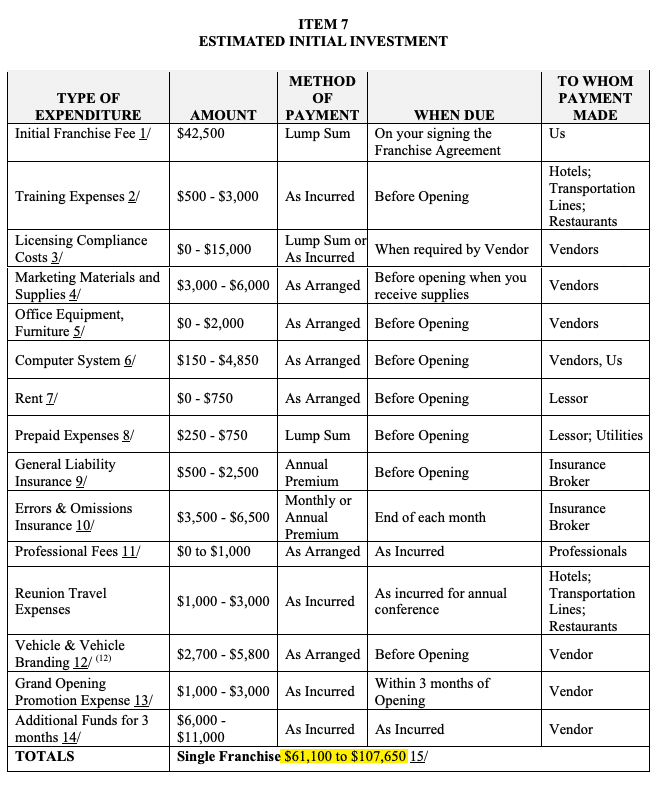 This next example is of a restaurant. As you can see, the total investment jumps up quite a bit.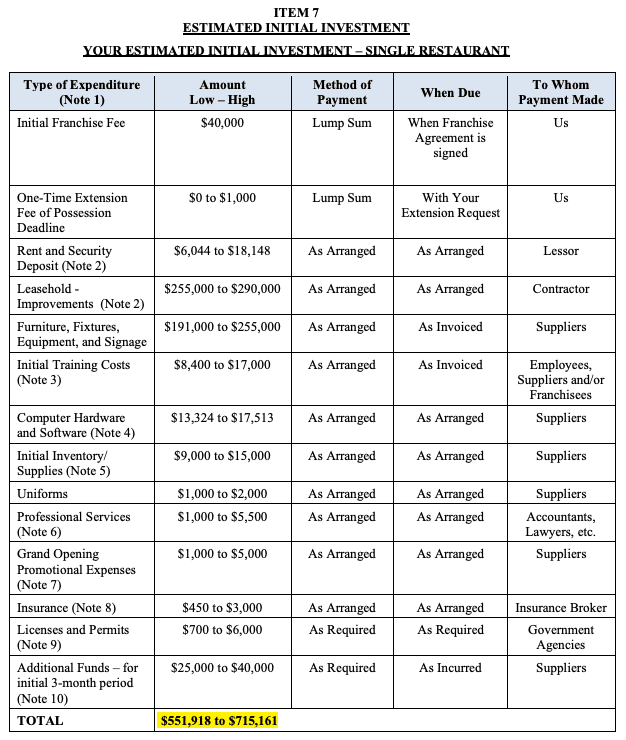 Hopefully this has given you a bit of clarity on the question "how much does a franchise cost?". If you're ready to speak with us and start looking at what franchises may be a good fit for you personally, schedule a call with us HERE.